As we hear of the passing of one great Texan, in Crickets double bassist Joe B. Mauldin, on a happier note we're able to send birthday greetings to another. Amarillo, Texas troubadour Joe Ely is turning 68, born on February 9, 1947.
Ely will take the news about Joe hard, partly as a rock 'n' roll fan like us all, but also because he grew up and formed his first bands in their home town of Lubbock. He first came to prominence there as a member of the Flatlanders, with Jimmie Dale Gilmore and Butch Hancock, around 1970. The trio gained great notoriety, not to mention collectability, by completing only one original album, 1972's 'All American Music,' that never saw a full release at the time. They later reunited for 'Now Again' in 2002.
Joe's solo debut came in 1977, and when he travelled to London, he found himself in the inner circle of a group who became new wave royalty. He and The Clash became fast friends and toured together, elevating Ely's music to new credibility with its tinges of early rock 'n' roll, rockabilly and Tex-Mex that sat well in the punk era. He has the distinction of providing some of the backing vocals on the Clash anthem 'Should I Stay Or Should I Go.'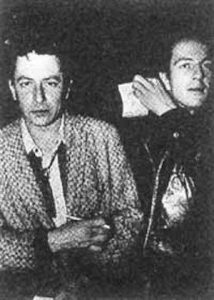 "Playing with the Clash definitely kicked my band up a notch," Austin told the Austin Chronicle in 2000. "Growing up in Lubbock, I always hung around with the rock & roll guys, so I came from a rockin' background. We played the Palladium in Hollywood together and Monterey Pop festival, Bond's in New York. It was a big boost for us, so when they invited us back the following year for the 'London Calling' shows in London, it was a real eye-opener. We were playing their venues with them, the Electric Ballroom, Hammersmith Odeon, wild, steamy, crazy shows that were unbelievable.
"I ran into them accidentally in New York when they were cutting 'Should I Stay Or Should I Go' and [Joe] Strummer said, 'Hey, help me with my Spanish.' So me and Strummer and the Puerto Rican engineer sat down and translated the lyrics into the weirdest Spanish ever. Then we sang it all."
Ely first appeared on the US album chart in 1981, with 'Musta Notta Gotta Lotta,' returning there within a few months with 'Live Shots.' If there was only one more visit to the mainstream bestsellers, with the MCA album 'Hi-Res' in 1984, Joe has continued to be a key name in southern roots music. He has recorded in recent years for the Rack 'Em label and toured acoustically with fellow Texans Lyle Lovett and Guy Clark, as well as John Hiatt.
Joe also continues to play live with his band, who have many shows in Texas in the coming weeks — and we must commend him for the booking he has on February 14 which, with admirable timing, is in the tiny Texas town of Valentine.
Listen to Joe Ely's 1981 album 'Musta Notta Gotta Lotta' on Spotify
Download Joe Ely from Google Play or iTunes, or buy him on Amazon