Queen viert 40e verjaardag 'News Of The World' met super deluxe boxset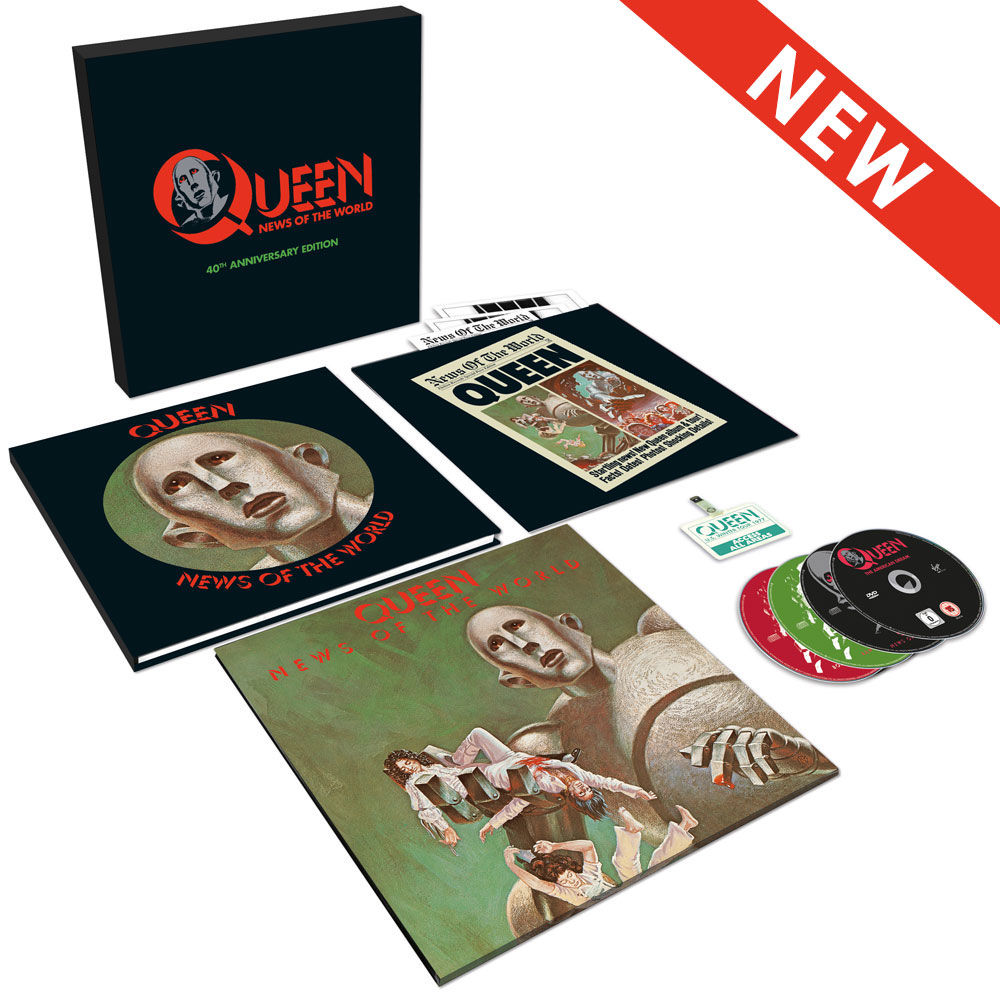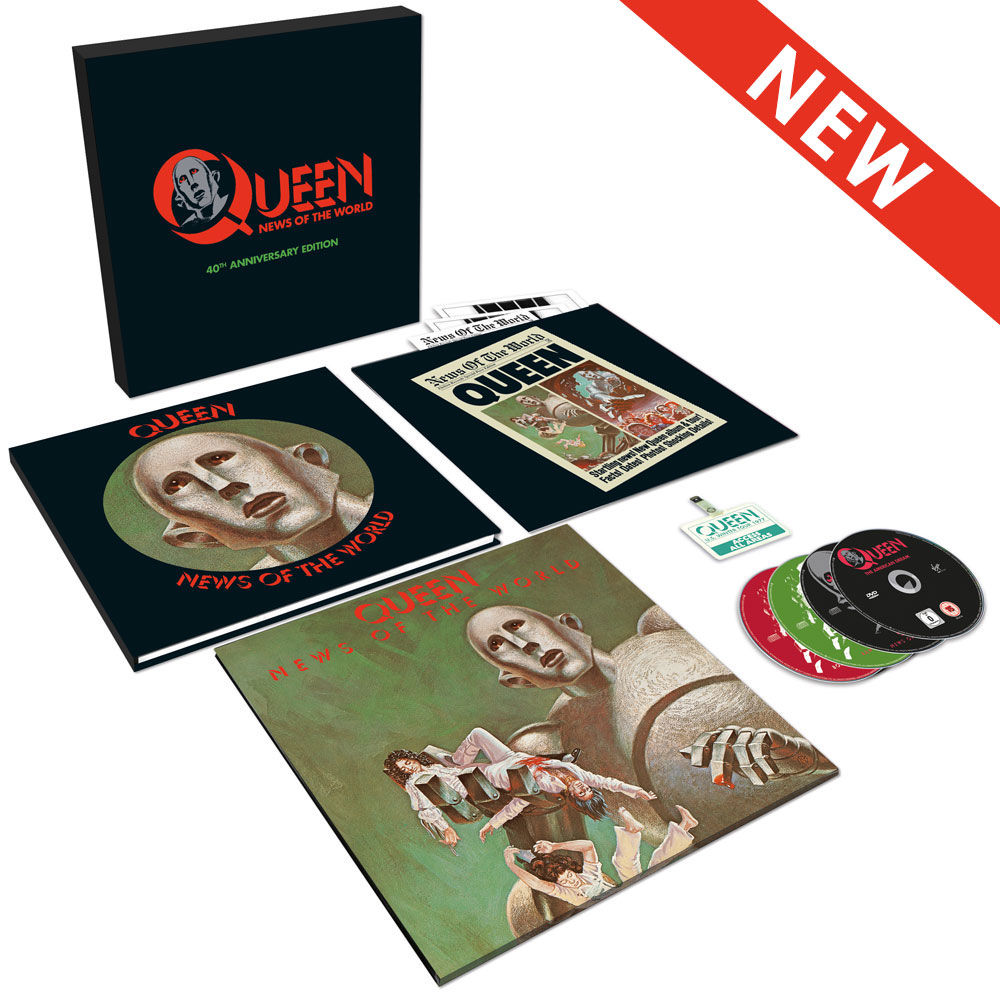 Op 17 november komt er een speciale boxset uit van Queens album News Of The World, dat dit jaar zijn 40e verjaardag viert.
Er zijn weinig albums die grootser openen dan News Of The World. De eerste track, We Will Rock You, wordt gevolgd door het minstens zo bombastische We Are The Champions. Alle bandleden schreven mee aan het album en dat bleek een succesformule: News Of The World is een van Queens meest succesvolle albums. Er gingen meer dan zes miljoen exemplaren over de toonbank.
In de boxset vind je het originele album op CD, een CD met niet eerder uitgebrachte outtakes, een CD met bonustracks (waaronder een volledige sessie bij de BBC), een DVD met de documentaire Queen: The American Dream en natuurlijk het album op vinyl. Daarnaast krijg je een 60 pagina's tellend boek met exclusieve bandfoto's, drie posters, een stickervel en de originele perskit uit 1977.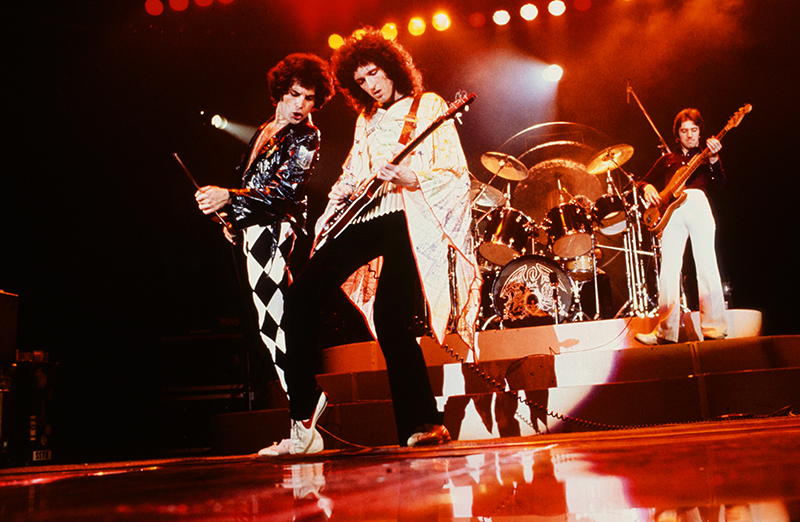 Voor de echte Queen fans is CD 2 waarschijnlijk het meest interessant van de hele set. Op het schijfje staan alternatieve versies van de elf tracks van het album – andere zangpartijen, ander gitaarspel en andere instrumentale details. Bovendien staat er een track op die, buiten de vrienden en familie van de Queen-leden, nog nooit iemand gehoord heeft: All Dead, All Dead. Op de demo van Fight From The Inside hoor je de vocalen die drummer Roger Taylor opnam in zijn bescheiden thuisstudio.
Kortom, een absolute must-have voor de echte Queen fan, of iedereen die geïnteresseerd is in de verhalen achter de nummers. De 40th Anniversary Edition van News Of The World is nu te reserveren bij Bol.com en Platomania.nl.
Tracklisting:
VINYL LP: The Original News of the World Album – new Pure Analogue Cut.
Side One
We Will Rock You (May) 2:01
 We Are The Champions (Mercury) 2:59
 Sheer Heart Attack (Taylor) 3:26
 All Dead, All Dead (May) 3:10
 Spread Your Wings (Deacon) 4:34
 Fight From The Inside (Taylor) 3:03 
Side Two
 Get Down, Make Love (Mercury) 3:51
 Sleeping On The Sidewalk (May) 3:06
 Who Needs You (Deacon) 3:05
 It's Late (May) 6.26
 My Melancholy Blues (Mercury) 3:29 
CD 1: The Original Album (Bob Ludwig 2011 master) 
 We Will Rock You (May) 2:01
 We Are The Champions (Mercury) 2:59
 Sheer Heart Attack (Taylor) 3:26
 All Dead, All Dead (May) 3:10
 Spread Your Wings (Deacon) 4:34
 Fight From The Inside (Taylor) 3:03
 Get Down, Make Love (Mercury) 3:51
 Sleeping On The Sidewalk (May) 3:06
 Who Needs You (Deacon) 3:05
It's Late (May) 6.26
My Melancholy Blues (Mercury) 3:29 
CD2:  NEWS OF THE WORLD : RAW SESSIONS 
 We Will Rock You (Alternative Version) 2:29
 We Are The Champions (Alternative Version) 4:33
 Sheer Heart Attack (Original Rough Mix) 4:17
 All Dead, All Dead (Original Rough Mix) 3:08
 Spread Your Wings (Alternative Take) 4:56
 Fight From The Inside (Demo Vocal Version) 3:08
 Get Down, Make Love (Early Take) 4:02
 Sleeping On The Sidewalk (Live in the USA, 1977) 3:49
 Who Needs You (Acoustic Take) 2:46
It's Late (Alternative Version) 6:44
My Melancholy Blues (Original Rough Mix) 3:36
CD3:  NEWS OF THE WORLD : BONUS TRACKS  
 Feelings Feelings (Take 10, July 1977) 1:55
 We Will Rock You (BBC Session) 1:36
 We Will Rock You (Fast) (BBC Session) 2:52 
 Spread Your Wings (BBC Session) 5:33
 It's Late (BBC Session) 6:39
 My Melancholy Blues (BBC Session) 3:13
 We Will Rock You (Backing Track) 2:03
 We Are The Champions (Backing Track) 2:59
 Spread Your Wings (Instrumental) 4:23
Fight From The Inside (Instrumental) 3:02
Get Down, Make Love (Instrumental) 3:49
It's Late (USA Radio Edit 1978) 3:52
 Sheer Heart Attack (Live in Paris 1979) 3:35
 We Will Rock You (Live in Tokyo 1982) 2:55
 My Melancholy Blues (Live in Houston 1977) 3:48
 Get Down, Make Love (Live in Montreal 1981) 4:35
 Spread Your Wings (Live in Europe 1979) 5:20
 We Will Rock You (Live at the MK Bowl 1982) 2:08
We Are The Champions (Live at the MK Bowl 1982) 3:32
 DVD: QUEEN : THE AMERICAN DREAM (One hour)